Qi enabled phones with wireless charging - compatible devices
Qi is the global standard for wireless charging. Its name comes from the Asian philosophy and means ''vital energy''; an intangible flow of power. Basically, the idea behind Qi is that all devices carrying the Qi logo are compatible with all Qi chargers. This eliminates the need for separate chargers, cables or adapters while traveling, as any Qi certified mobile device can be charged on any Qi certified wireless charger.
Nowadays, we are always connected and the demand for continuous power keeps growing. As a result, wireless charging is becoming a standard feature of mobile devices. Most smartphones (and headphones) are equipped with Qi wireless charging. Find out if your smartphone supports Qi wireless charging by viewing the list below.
Phones with wireless charging – Qi compatible smartphones
¹ features and capabilities may vary by region
Note: please report missing or incorrect entries here
Qi Integrated
Apple
iPhone 8
iPhone 8 Plus
iPhone X
iPhone Xs
iPhone Xs Max
iPhone Xr
iPhone 11
iPhone 11 Pro
iPhone 11 Pro Max
iPhone SE 2020
iPhone SE 2022
iPhone 12 Mini (not yet Qi certified)
iPhone 12 (not yet Qi certified)
iPhone 12 Pro (not yet Qi certified)
iPhone 12 Pro Max (not yet Qi certified)
iPhone 13 Mini (not yet Qi certified)
iPhone 13 (not yet Qi certified)
iPhone 13 Pro (not yet Qi certified)
iPhone 13 Pro Max (not yet Qi certified)
iPhone 14
iPhone 14 Pro
iPhone 14 Pro Max
iPhone 14 Plus
iPhone 15
iPhone 15 Pro
iPhone 15 Pro Max
iPhone 15 Plus
Asus
BlackBerry
BlackBerry Passport
BlackBerry PRIV
BlackBerry Z30
CASIO
Caterpillar
DeWalt
Dewalt MD501
Dewalt MIL810G
Energy Sistem
Fujitsu
Fujitsu Arrows F-09D
Fujitsu Arrows Kiss F-03D
Fujitsu Arrows Kiss F-03E
Fujitsu Arrows X F-10D
Google
Google Nexus 4
Google Nexus 5
Google Nexus 6
Google Pixel 3
Google Pixel 3 XL
Google Pixel 4
Google Pixel 4 XL
Google Pixel 5
Google Pixel 6
Google Pixel 6 Pro
Google Pixel 7
Google Pixel 7 Pro
Google Pixel 7a
HP
HTC
HTC Droid DNA
HTC Windows Phone 8X
Huawei
Huawei Mate 20 Pro
Huawei Mate RS Porsche Design
Huawei P30 Pro
Huawei Mate 30
Huawei Mate 30 Pro
Huawei P40 Pro
Huawei P40 Pro+
Huawei P50 Pro
Huawei P50 Pocket
Huawei Nova 9
Kyocera
Kyocera Brigadier
Kyocera DuraForce
Kyocera Hydro Elite
Kyocera Torque G02
Kyocera Torque KC-S701
Kyocera Urbano L01
Kyocera Urbano L03
Kyocera E6910
LG
LG G2
LG G3
LG G6 ¹
LG G6 Plus ¹
LG G7
LG G7 ThinQ
LG Lucid 2
LG Lucid 3
LG Optimus F5
LG Optimus G Pro
LG Optimus It L-05E
LG Spectrum 2
LG Vu 2
LG Vu 3
LG V30
LG V30 Plus
LG V40 ThinQ
LG V50 ThinQ
LG V60 ThinQ
M.T.T.
Meizu
Microsoft
Microsoft Lumia 950
Microsoft Lumia 950 Dual Sim
Microsoft Lumia 950 XL
Microsoft Lumia 950 XL Dual Sim
Microsof Lumia 1020
Microsoft Lumia 1520
Mlais
Motorola
Motorola Droid Maxx
Motorola Droid Mini
Motorola Droid Turbo
Motorola Droid Turbo 2
Motorola Moto Maxx
Motorola Moto X Force
Motorola Edge+
mPhone
NEC
NEC Medias PP N-01D
NEC Medias X N-04E
Noa
Nokia
Nokia Lumia 1520
Nokia Lumia 735
Nokia Lumia 830
Nokia Lumia 920
Nokia Lumia 928
Nokia Lumia 929 (Icon)
Nokia Lumia 930
Nokia 8 Sirocco
Nokia 9 PureView
Nokia 9.3 PureView
Nokia XR20
OnePlus
OnePlus 8 Pro
OnePlus 9 Pro
OnePlus 10 Pro
Oukitel
Panasonic
Panasonic Eluga P P-03E
Panasonic Eluga V P-06D
Panasonic Eluga X P-02E
Panasonic Eluga X1
Panasonic Eluga X1 Pro
Philips
Razor
RugGear
Samsung
Samsung Galaxy S6
Samsung Galaxy S6 Active
Samsung Galaxy S6 Edge
Samsung Galaxy S6 Edge Plus
Samsung Galaxy S7
Samsung Galaxy S7 Active
Samsung Galaxy S7 Edge
Samsung Galaxy S8
Samsung Galaxy S8 Active
Samsung Galaxy S8 Plus
Samsung Galaxy Note 8
Samsung Galaxy S9
Samsung Galaxy S9 Plus
Samsung Galaxy Note 9
Samsung Galaxy S10
Samsung Galaxy S10e
Samsung Galaxy S10 Plus
Samsung Galaxy Note 10
Samsung Galaxy Note 10 Plus
Samsung Galaxy S20
Samsung Galaxy S20 Plus
Samsung Galaxy S20 Ultra (5G)
Samsung Galaxy S20 FE
Samsung Galaxy Note 20
Samsung Galaxy Note 20 Ultra
Samsung Galaxy S21
Samsung Galaxy S21 Plus
Samsung Galaxy S21 Ultra
Samsung Galaxy S22
Samsung Galaxy S22 Plus
Samsung Galaxy S22 Ultra
Samsung Galaxy S23
Samsung Galaxy S23 Plus
Samsung Galaxy S23 Ultra
Samsung Galaxy Fold
Samsung Galaxy Z Fold 2
Samsung Galaxy Z Fold 3
Samsung Galaxy Z Fold 4
Samsung Galaxy Z Flip
Samsung Galaxy Z Flip 3
Samsung Galaxy Z Flip 4
Samsung Leader 8
Samsung W2016
Saygus
Sharp
Sharp Aquos EX SH-04E
Sharp Aquos SH-07D
Sharp Aquos SH-13C
Sharp Aquos Slider SH-02D
Sharp Aquos Zeta SH-06E
Sharp Aquos Zeta SH-09D
Sharp Q-Pot SH-04D
Sharp SH-05D
Sony
Sony Xperia Z3V
Sony Xperia Z4V
Sony Xperia XZ2
Sony Xperia XZ2 Premium
Sony Xperia XZ3
Techdy
Techdy Basic Bear
Techdy Bear Pro
Vertu
Vertu Aster
Vertu Signature Touch
Xiaomi
Mi MIX 2S
Mi MIX 3
Mi 9
Mi 10
Mi 10 Pro
YotaPhone
ZTE
ZTE Telstra Tough Max
ZTE Axon 9 Pro
More about Qi
Wireless charging is a relatively new technology that is rapidly making its' way to our daily lives. You may have been using wireless charging for many years already if you possess an electrical toothbrush: you just put it on the holder and it starts charging. Nowadays already over 600 types of devices are in the market which can be charged wirelessly. All phones with wireless charging compatibility currently on the market are listed on this page. Find out if your smartphone is or can be enabled with the Qi standard by viewing the list above.

Does your car feature wireless phone charging?
Whether as a standard- or optional feature, wireless phone charging for cars is available on a large scale already. What about your vehicle? Find out and view all cars with in-vehicle wireless charging compatibility currently on the market. Zens is both tier 1, tier 2 and after-market supplier for OEMs in the automotive industry.
More information about wireless charging?
As a wireless charging expert, we'd like to explain more about the transfer of wireless power and its' technology. How does wireless charging work? What is this Qi standard? Is wireless charging safe?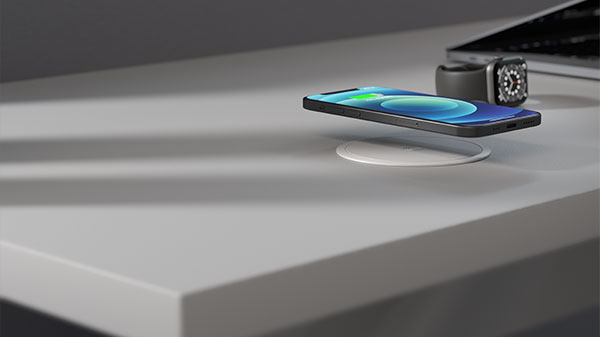 Wireless Charging Furniture Integration for Offices, Workplaces & Desks, Restaurants, Kitchens & Bedrooms
We at Zens are continuously looking for new wireless charging applications for consumers and business solutions. Recently for instance we presented the world's first integrated wireless charging system for laptops. If you're thinking about applying the technology to your business environment, do not hesitate to contact us.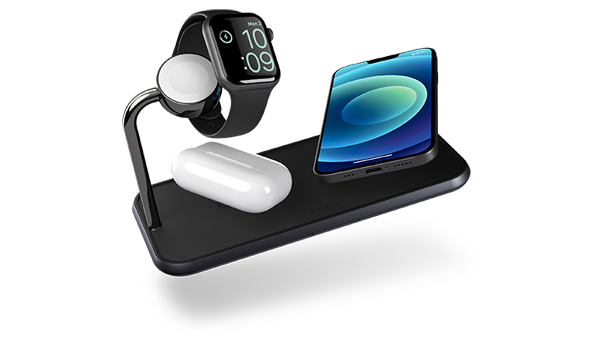 Check out our wireless charging products in our online shop