Airpower alternatives offered by Zens
Looking for an AirPower alternative now that Apple cancelled the AirPower? Zens got you covered.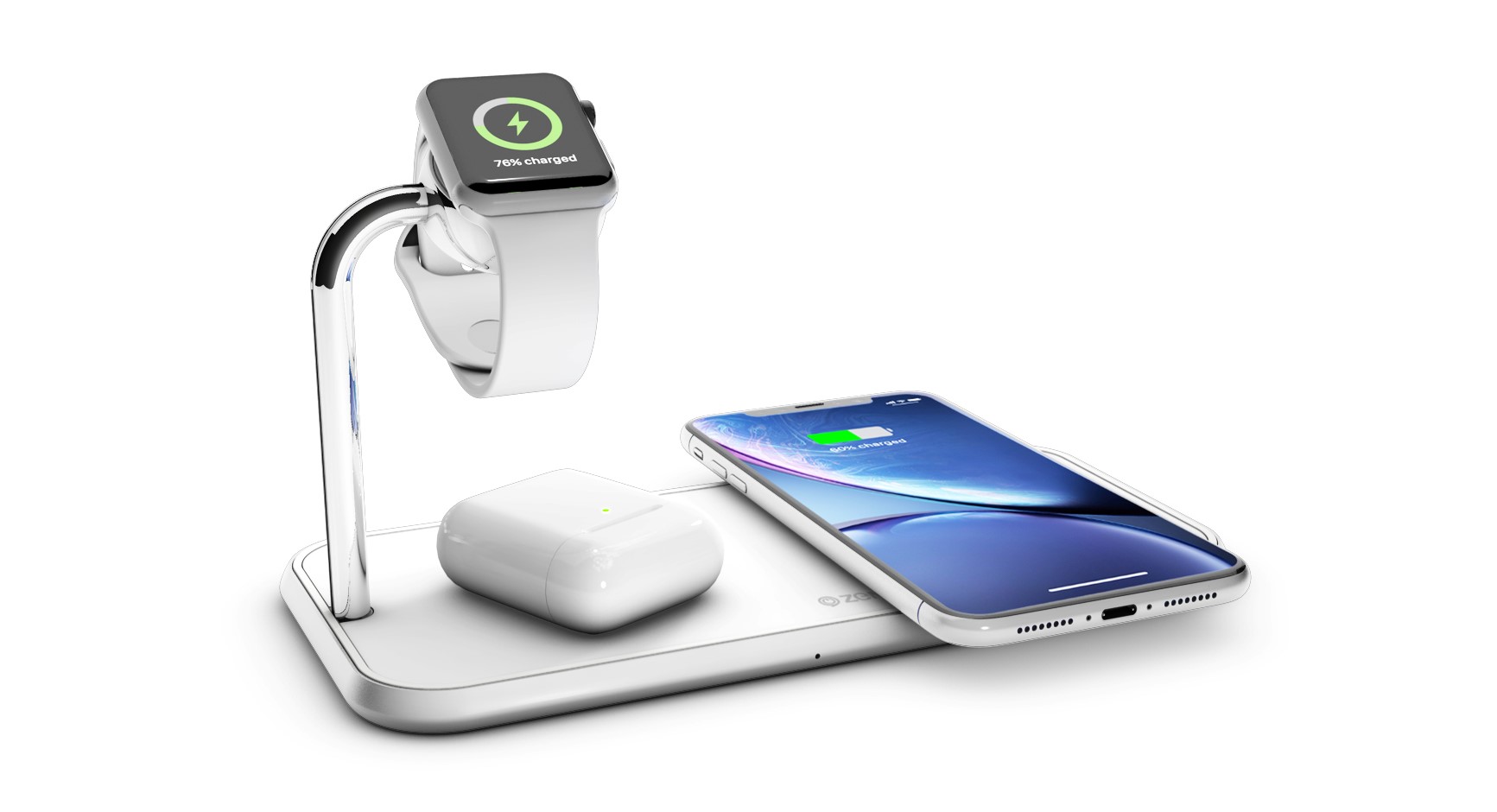 Apple AirPower
In September 2017, Apple not only announced the first iPhones with Qi wireless charging, but also their first wireless charger; the Apple AirPower. The AirPower was supposed to be an Apple-designed all-in-one charging mat on which an iPhone, Apple Watch and the AirPods could be charged simultaneously. However, the AirPower has officially been cancelled by Apple. Zens offers AirPower alternatives. These Apple chargers enable you to wirelessly recharge your Apple devices simultaneously.
Apple AirPods 2 with wireless charging case
The AirPods 2, the newest wireless headphones of Apple, have been released with a wireless charging case. This case, also compatible with the prior version of the Airpods, allows wireless recharging of the AirPods on any Qi wireless charger. With the iPhones* and AirPods both being wirelessly rechargeable and Apple officially cancelling the AirPower, the following AirPower alternatives perfectly complement your Apple devices and keep them charged at all times.
Zens Dual+Watch Aluminium Wireless Charger
The Dual+Watch Aluminium Wireless Charger is designed to fast-charge a smartphone, the AirPods (or second phone) and an Apple Watch simultaneously; the ideal AirPower alternative. It works with all Apple Watches (series 1, 2, 3, 4). Even an Apple Watch with a closed metal band can seamlessly be charged on the MFi certified watch module. The charger has a total output of 20W, supports Apple Fast Charge at 7.5W, is Qi certified and comes with a universal power adapter. This three-in-one charger is the ideal charger to wirelessly recharge all your Apple devices at the same time.
Zens Dual Aluminium Wireless Charger
If you do not have an Apple Watch, but want to make sure your smartphone(s) and/or AirPods will not run out of battery, the Dual Aluminium Wireless Charger is the perfect AirPower alternative for you. The charger has a total output of 20W to support dual device charging, supports Apple Fast Charge at 7.5W, is Qi certified and comes with a universal power adapter.
* iPhone 8 and later models 
About Zens
Zens is the innovative company which specializes in developing and producing state-of-the-art wireless charging solutions for both consumers and businesses across all industries. In 2011, Zens joined the Wireless Power Consortium (owners of the Qi standard) as one of its first members. Zens stands for ease of use, innovation and design and takes wireless charging one step further by expanding and combining wireless charging with intelligent technologies.
Do you have any questions or would you like to know how you can integrate wireless charging in your environment? Take a look at our FAQ-page or contact us.